arbooMEET Meeting Room Booking System
The Outlook meeting room booking system for Microsoft 365 and Exchange Online
Today's business world is dynamic and demands flexibility, efficiency and effectiveness. In this context, the management of resources such as meeting rooms, office space and additional services plays a crucial role. Our room booking system for Outlook with excellent integration with Microsoft 365 / Exchange Online offers an all-encompassing solution for these needs.
arbooMEET is our Outlook room booking system and ensures efficient and fully comprehensive planning of your appointments. With our Outlook Add-In, your users extend their room booking in Outlook with the ordering of additional services, such as catering services. In addition, the system allows you to select different seating options to meet the needs of each event. Whether it's a small meeting or a large conference, the room booking system provides the flexibility and ease of use needed to facilitate event planning and execution. It is a comprehensive solution that optimizes everyday work and ensures effective business processes.
Have we sparked your interest?
Importance of room booking in the modern business world
In a business world where meetings and presentations are the order of the day, efficient management of space can make the difference between chaos and order. A room booking system enables smooth planning and execution of events, which has a positive impact on productivity.
Importance of integrated ordering of catering, services and seating options as part of the room booking process
Where efficiency and time management are keys to success, the integrated ability to order catering, services and seating options as part of the room booking process plays an essential role. The ability to include these aspects directly in the booking process removes additional organizational steps, saving valuable time. It enables seamless event coordination and planning, which in turn increases productivity and ensures smooth execution. An integrated ordering facility ensures that no detail is overlooked, leading to improved event quality and ultimately better business performance.
Characteristics of a good room booking system
A good room booking system should have certain features to make life easier for users.
The room booking system should offer a simple, intuitive user interface. Users should be able to quickly and easily reserve a room, order catering or request additional services.
The system should be able to automatically observe rules for the respective rooms. Compliance with the maximum lead time and the maximum duration for bookings, is part of the standard of any good room booking system, in addition, the system must also be able to comply with lead times for ordering services.
A good room booking system should automate processes such as reserving rooms, ordering catering and organizing additional services. This saves users time and avoids human error.
Compatibility and integration with conferencing systems (e.g. Microsoft Teams Rooms)
Another outstanding feature of an excellent room booking system is the ability to integrate seamlessly with conferencing systems, such as Microsoft Teams Rooms. This enables efficient planning and execution of conferences and meetings by bringing together all the necessary functions and information in a single platform.
Integration with conferencing systems allow users to automatically create a meeting in Microsoft Teams when booking a room. The link to the conference is then provided to all participants along with the meeting invitation. This saves valuable time by avoiding manual steps and ensures that all participants receive the necessary information at the same time.
Integration with conferencing systems also provides the ability to identify and book rooms with special conferencing equipment. This allows users to ensure that the booked room meets the technical requirements of their meeting.
Such integration not only improves the efficiency and productivity of meeting scheduling, but also increases user satisfaction by providing a seamless and disruption-free process. The ability to integrate conference equipment is therefore a crucial feature of a good room booking system.
Compatibility with doorplates, displays, panels
The ability to use electronic doorplates or room panels is another essential feature of a good room booking system. This feature extends the interaction possibilities with the system beyond the digital interface and enables direct interaction on site.
Electronic door signs or room panels display the current booking status of a room in real time and can also be used to make spontaneous bookings or extend existing bookings. By using electronic door signs, the transparency of the booking process is increased and possible misunderstandings or double bookings can be avoided.
Especially in large companies or facilities with many rooms and meeting areas, electronic door signs facilitate orientation and efficient use of the available space. Employees and visitors can see at a glance whether a room is free or occupied and, if necessary, make a booking directly.
The integration of electronic door signs into the room booking system should be seamless and simple, so that updates are made in real time and the benefits of this function are maximized. A good room booking system should thus support efficient management of resources and promote communication and coordination within the company.
Avoidance of media discontinuity
Carrying out the entire planning and booking process without media discontinuity is crucial. This means that all steps – from room reservations to catering orders to requests for additional services – are handled within the same platform or interface. Avoiding media discontinuity minimizes potential communication errors or information loss. It also improves efficiency by eliminating the need to switch between different tools or platforms, resulting in a seamless and time-saving booking process. This integrative approach ensures that all aspects of event planning can be effectively coordinated and managed, ultimately resulting in a successful and productive meeting or event.
arbooMEET meets these requirements
Our room booking system implements all these points in an outstanding way. It combines simplicity, rule compliance, automation and media disruption avoidance in a single, user-friendly tool. With its intuitive user interface, it allows users to easily book rooms, order catering and request additional services. At the same time, it automatically observes all relevant booking rules and adheres to lead times. By automating processes, our system minimizes human error and saves valuable time. Finally, the seamless integration of all processes in a single platform enables efficient and effective event planning and execution. In short, our room booking system is designed to optimize your day-to-day work and ensure the success of your events.
Use of the room booking system in Outlook with integration in Microsoft 365 and Exchange Online
arbooMEET integrates seamlessly with your Microsoft 365 and Exchange Online environment. The system is connected to your Azure AD via Single Sign On (SSO), so users can very easily organize extras to their appointments via an Outlook add-in. This makes it an integral part of the workday and helps improve productivity.
Integration into the daily work routine
The integration of our room booking system into the Microsoft environment is a key feature that makes its use easier and more efficient in everyday work. Users can reserve rooms directly from their Outlook calendars, making the system a seamless experience for room planning. In addition, users can select and order catering options and request additional services directly from their email environment. This eliminates the need for additional tools or platforms and centralizes all booking and planning activities in one place. This tight integration not only promotes ease of use, but also saves valuable time and resources and ensures optimal use of available space and services. Seamless integration into the daily workflow makes our room booking system an indispensable tool for efficient and effective business practice.
Advantages of using the system
The integration of the room booking system in Outlook has the added advantage that users do not have to get used to anything new. They can continue to work in their familiar interface, which makes the changeover process much easier. This not only saves time, but also resources that would otherwise have to be spent on extensive training or familiarization periods. Familiarity with the interface promotes rapid adoption of the system and minimizes potential concerns or resistance. Ultimately, this seamless integration allows users to realize the full potential of the room booking system immediately and without much effort, increasing productivity and optimizing business operations.
Order catering, request seating options and services
arbooMEET provides a fully comprehensive and integrated process for ordering services. It allows users to order catering, choose seating options and request additional services.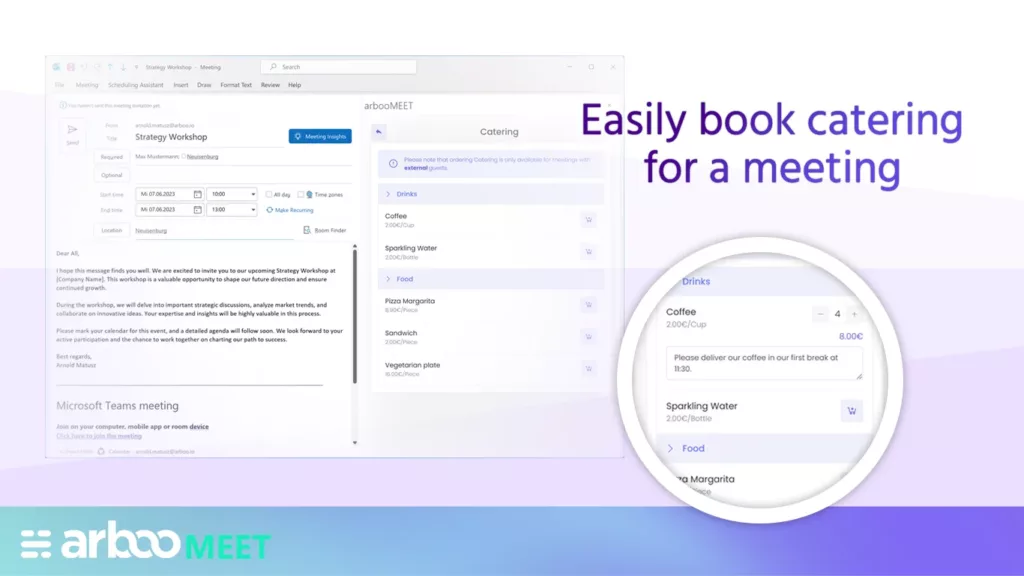 Order catering directly in Outlook
The process of ordering catering and seating options through our room booking system is designed to be both detailed and user-friendly.
Specific settings can be stored for each location, covering a wide range of aspects. These include available products, preferred suppliers, required lead times for orders, available services and defined responsibilities. This provides users with a clear overview and choices according to the specific requirements of their site.
During the booking process, users can select catering products from the stored options and place their orders directly in the system. They can also order seating changes according to the type and size of the event. In addition, the system also allows users to request additional services, all within the same user interface.
To ensure the quality and efficiency of the process, each order goes through an approval process. Those responsible for the process review and process the orders accordingly. The system keeps everyone involved informed with automated status updates and sends detailed order summaries to those responsible. This ensures that every step of the process is transparent and traceable and that all parties involved are always up to date.
This functionality takes the convenience and efficiency of room booking to a new level by providing an all-in-one solution for event planning and execution.
The ability to select and order seating options is an important part of a comprehensive room booking system. Different event formats require different arrangements of seating. Whether it's a conference, a workshop or a training session – the right seating makes a significant contribution to a successful meeting.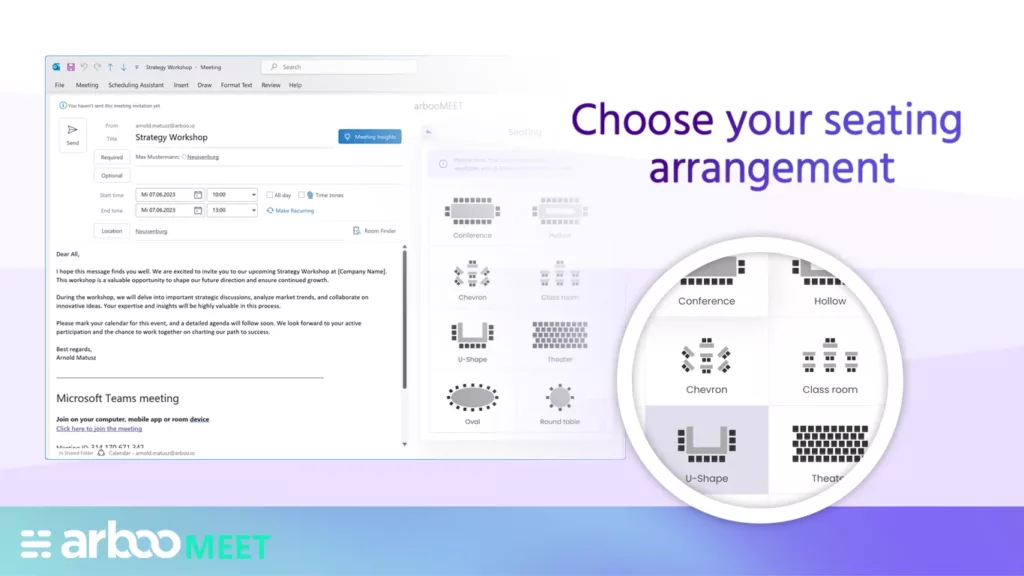 It can be defined in the company who is responsible for changing over the seating. In the individual rooms, it is then defined which seating options are available. This can range from a classic conference arrangement to a U-shape to a lounge arrangement for informal meetings.
As part of planning the appointment, the user has the option of selecting one of the available seating options. This selection is entered directly into the room booking system and automatically forwarded to the responsible person.
This integration of seating options into the booking process allows requests for seating to be communicated efficiently and reliably to the responsible parties. The user is kept up to date on the status of their order, providing transparency and satisfaction.
This feature, coupled with an intuitive user interface and seamless integration into the existing workflow, makes the room booking system an indispensable tool for efficient meeting and event management.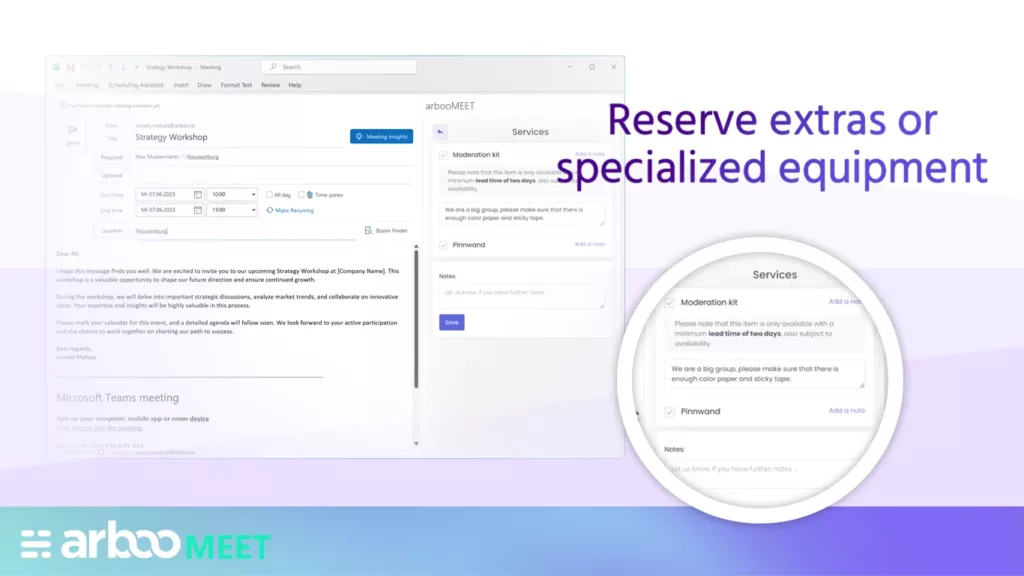 Availability of additional services
Our room booking system offers the possibility to provide a variety of additional services and objects. This function is particularly useful in companies where certain resources or services are not available as standard in every room. These include, for example, moderation cases, pin boards or support from building services.
For each location, these additional services and objects can be entered into the system, along with the responsibilities defined for them. This ensures clarity and efficiency in the planning and execution of meetings and events.
With our Outlook Add-In arbooMEET, users can easily add these services and objects directly to their appointments. This allows for centralized planning and coordination of all aspects of the event without the need to switch between different tools.
To make the process transparent and traceable, the system sends notifications and overviews of the ordering process. These inform users about the status of their orders and ensure that those responsible are always aware of the current state of affairs. This function not only facilitates the planning and execution of events, but also helps to ensure the efficient use of resources and services in your company.
arbooMEET – our Outlook room booking system
In today's business world, where meetings and events are critical, an efficient and integrated room booking system like ours offers undeniable added value. The ability to reserve rooms, order catering and request additional services, all within the same platform and without media disruption, streamlines processes and increases productivity. Seamless integration with Outlook eases the transition and allows users to work in their familiar environment. In addition, process automation and system transparency improves efficiency and minimizes potential errors. With comprehensive customization options and transparent processes, our room booking system is a future-proof solution that meets the needs of modern businesses.
Have we sparked your interest?
A selection of our references
arboo is used by numerous companies across all industries

Advertising

Education

Media

Pharma

Public Sector

Energy
Do you have any questions? Please feel free to contact us.