Microsoft 365 resource booking system
Book shared desks, meeting rooms, parking spaces, and other resources easily, flexibly, and efficiently. arboo and arbooONE were created for:
Shared desk booking system
Desk sharing with arboo is easy and strongly integrated into your Microsoft 365. Maintain your shared desks in arboo and position them on a floor plan.
Employees can book available shared desks based on the configuration. In addition, you can search for colleagues, make bookings for colleagues, make multiple bookings in one step, and much more.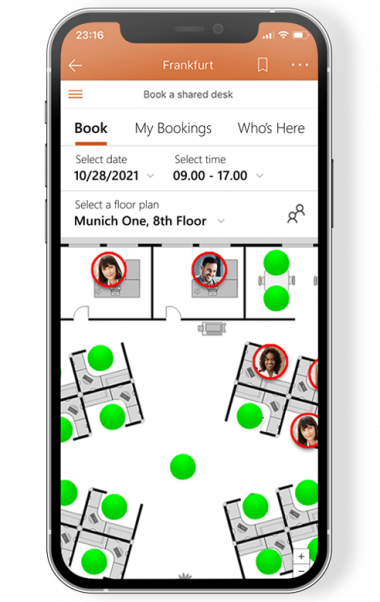 Features for desk sharing
Book from Microsoft Teams or SharePoint Online
Also use your native iOS und SharePoint Apps on your mobile device
Scan QR Codes to book or to confirm a booking. Unconfirmed bookings can be cancelled after a defined delay.
Search for positions of colleagues, who have explicitly marked their bookings as visible to others.
Show available flexible workplaces on a floor map
Book a flexible workplace for a colleague of yours
Define the maximum lead time for booking of a resource.
Define which persons or groups have the right to book the ressource.
Easily find out which workplaces are used more often or how your office utilization looks like over a period of time
Secure Hosting in your M365 environment, automatic deletion procedures and explicit opt-in
Features for meeting room booking
Book from Microsoft Teams or SharePoint Online
Also use your native iOS und SharePoint Apps on your mobile device
See at a glance which meeting rooms are available.
Search for a room based on capacity, equipment, or offered extras.
Like in Outlook, specify which people should be invited.
Organize drinks and meals directly in the appointment planning.
Organize extras directly in the appointment planning, such as seating arrangement, moderation case, pinboard, etc.
Define which products can be ordered with what lead time.
Define which people approve the order, control whether organizational unit and cost center are requested during booking.
Compatible with meeting room displays - check availability of the meeting room directly on the display in front of the room.
Adoption of your digital workplace
arboo fits perfectly into everyday work, simplifies relevant company processes and opens the door for applications that were not possible until now.
With a seamless integration into your Microsoft 365 world, arboo improves the adoption of your digital workspace and reaffirms your cloud investment for internal digitization.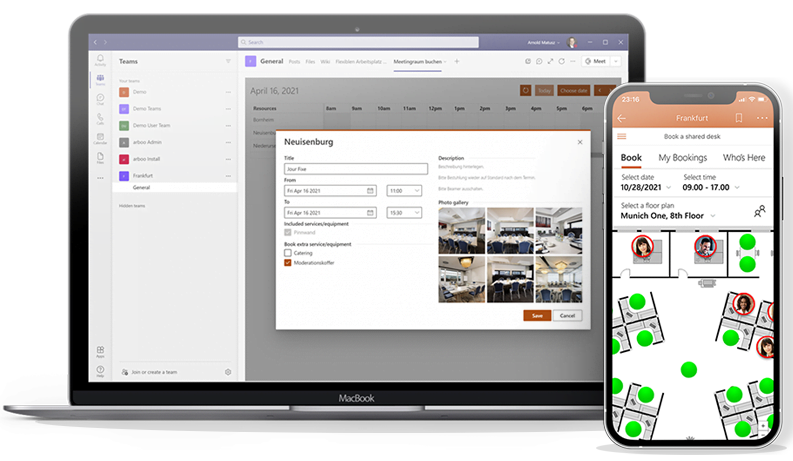 Why the standard management of
Microsoft 365 resources isn't enough
Resource accounts are stored within Microsoft Exchange. In order for a user to create or manage any resources within Microsoft 365, special permissions need to be assigned. Documentation here.
arboo creates an abstraction layer between the management of resources and the hard permission requirements of the Microsoft 365 environment. An Microsoft 365 / Azure administrator creates an arboo location with responsibles, who then are able to create and maintain resources for that location. 
Exchange accounts are still created behind the curtains, but the responsibles persons use user friedly forms for their management process and need no technological background at all. Hence arboo also offers: 
Double Booking Protection
Do you have any? Feel free to contact us